Welcome to the MHR Men's Club Bowling League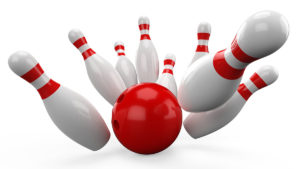 Thank you for your interest in playing in the MHR Men's Club Bowling League. The league starts in January and will be every Wednesday night at 6:00 at Bluebird Bowl (just east of Pulaski on Columbus. More details are as follows:
Starts 1/9/19
12 weeks
6 pm on Wednesday's at Bluebird Lanes (3900 W. Columbus Ave, Chicago)
Cost $140.
Food included weekly.
Teams will be 6/7 guys depending on participation with 5 bowlers per week , established through a blind draw.
bluebird pro shop offering discounted rates for anyone interested in purchasing a bowling ball.
Any further questions contact Joe Brennan 708-704-1419 or Bill Zurella 708-819-4785
Anyone who hasn't signed up and paid their men's club annual dues has to in order to register.
Make sure you also sign up for our text alerts; text these two words – follow mhrmensclub – to the number 40404
Please fill out the registration form below.  After you submit, you will be directed to make your payment through PayPal.  If you don't have a PayPal account, don't worry, you can make a payment with your credit card through PayPal.  Upon completion of your payment, you will receive a confirmation email.
Thanks again!  MHR Men's Club
Registration for Bowling is now closed!
Pay Online
We prefer you pay online.  Though our payment processor is PayPal, if you don't have an account with them, you can still use your own Credit Card!