Welcome to the MHR Men's Club Bowling League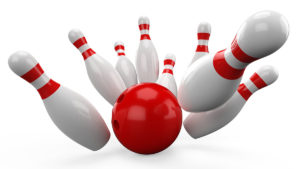 Thank you for your interest in playing in the MHR Men's Club Bowling League. The league starts in January and will be every Thursday night at 6:30 at Bluebird Bowl (just east of Pulaski on Columbus. More details are as follows:
When: Starts Thursday, January 16th, 2020

Where: Bluebird Lanes (3900 W. Columbus Ave, Chicago)

How Much: $155. Includes 3 games per week along with shoes

How Long: Through April 2nd

Included: Dinner Every Week
Teams will be 6/7 guys depending on participation with 5 bowlers per week.  If you are new and not already part of a team, we can place you on one. Also if you want to form your own team, that would be great.  We are looking to add new bowlers!
Bluebird pro shop will raffle off 5 bowling balls the 1st week.  They also offer discounted rates for anyone interested in purchasing a bowling ball.
Any further questions contact Joe Brennan 708-704-1419 or Bill Zurella 708-819-4785
You have to Renew your Membership to register for Bowling!
Membership dues are being collected differently starting in 2020. Each year going forward, starting with the Bowling League at the beginning of the year, you will need to renew your membership before you are able to register for bowling. We are no longer auto charging your credit card.
Once renewed, your membership status will be updated to "2020 Paid". You'll then be able to go to Bowling registration.
If you became a Men's Club Member in the past using the online form, then you have login credentials and you'll be able to renew.
If you are not a Men's Club Member yet, then click the "Join Here" link on the Renewal page.
If you are completely lost – don't know how to use a computer, fill out a form or purchase something online – then have your wife or kid help you!  If all else fails, please email John Geary at geary(at)mhraa.com